Hojicha Latte – OUT
---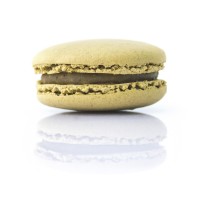 Love Our Japanese Matcha…?
Then you'll no doubt love our Japanese hojicha, which is roasted Japanese green tea.
In fact, it's widely known that many food businesses are introducing the Japanese hojicha latte as one of the newest items on their menus.
And here at Macarons.sg, we want you to also enjoy this new trendy flavour in a macaron… a quality macaron that is.
So why Kyoto Uji Japanese Hojicha?
It has always been our goal to use the very best ingredients in our macarons, which is why when we decided to make hojicha macarons, we knew we had to get them from the birthplace of Japanese green tea.
That's in the state of Kyoto, in a small town called Uji. That is no doubt the place to get the best Japanese green teas in the world.
How We Make Them…
Hojicha is enjoyed by many in the form of a latte, so we figured out that our best bet would be to mimic the taste of hojicha latte and replicate them in our macarons.
So by combining the Kyoto Uji hojicha powders with good quailty white chocolate ganache, we managed to get a taste that's second only to a great cup of hojicha latte.
In fact, there's a great chance that you might just accuse us of stealing the best hojicha latte in the world, solidifying it using artificial agents, and filling them between our delicious macaron shells…
That's how good they are…
Hojicha Latte Macarons Are Popular With…
Mainly adults and teenagers, since they are from the age groups that love hojicha latte the most.
But that aside, should you be hosting any asian guests (especially Japanese) for a party and you're short of ideas of what to get them for dessert, we're sure they are going to love these asian favourites since it's a taste that they are so familiar with.