Macaron Towers
---
Many of our customers have given us feedback that our macaron towers are truly affordable and well priced, and the good news is we intend to keep it that way.
What's more, we have several sizes that you can choose from to suit your event and budget. So you'll be spoilt for choice!
We also do not charge any rental for macaron towers.
All you need to do is to leave us a $100.00 (for flat laying towers) or a $200.00 (for straight standing towers) refundable deposit which we will refund back to you in full once you have returned the towers to us after use (must be returned within 7 days in original condition).
And finally, should you need delivery and tower setup, it is only an affordable charge of $25.00 that covers islandwide (except Jurong island. Sentosa delivery and setup charges are at $50.00).
Click on the tabs below to check out our available macaron towers…
5 Tier Macaron Tower
Price = SGD$99.90
Type: Flat Laying, 50 pieces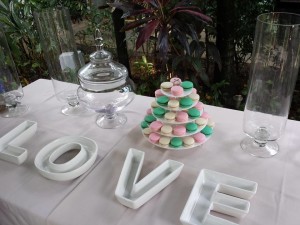 Who said you need hundreds of macarons to serve them on a tower? This 50pcs 5 tier macaron tower proves otherwise.
Our most affordable option yet, you just need 40pcs of macarons for this tower to look great. You can even consider loaning a few of these 5 tier towers and spreading them around different corners of your event, so you can serve more people with no over crowding issues.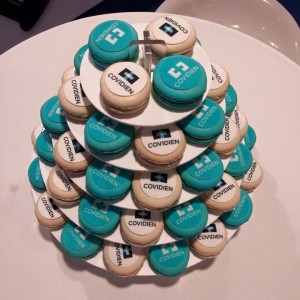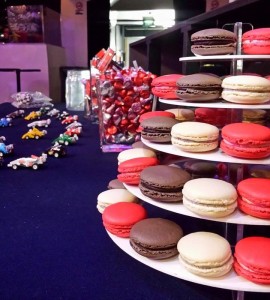 Price = SGD$99.90
7 Tier Macaron Tower 1
Price = SGD$169.90
Type: Flat Laying, 90 pieces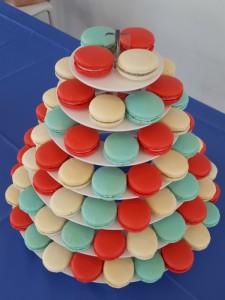 Similar to the 5 tier tower but slightly bigger, this is the perfect choice for a medium sized party where you have more guests to serve, but yet not in a big party where you'll require more than 100 macarons.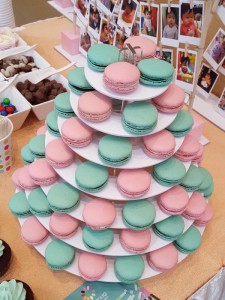 Price = SGD$169.90
7 Tier Macaron Tower 2
Price = SGD$219.90
Type: Straight Standing, 120 pieces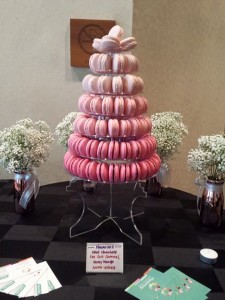 Our most popular tower configuration because of its elegance, this standing configuration macaron tower is the most popular among weddings and corporate events at hotels.
You really can't go wrong with this tower should you need elegance and class for your event.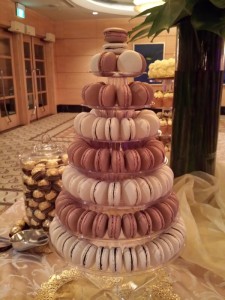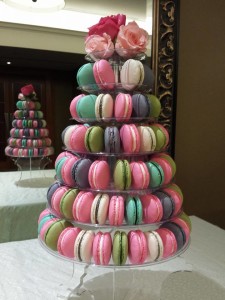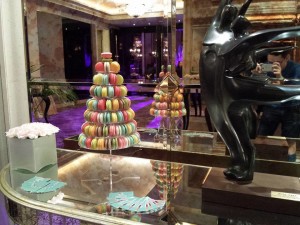 Price = SGD$219.90
9 Tier Macaron Tower
Price = SGD$269.90
Type: Flat Laying, 150 pieces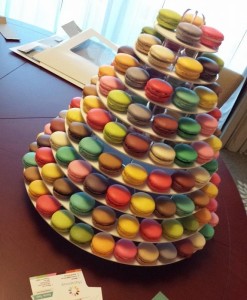 Suitable for larger parties, such a macaron tower will surely turn the heads of everyone who turns up for your event. What's more, with up to a maximum of 150pcs of macarons, it's never been easier to serve more guests with just one tower.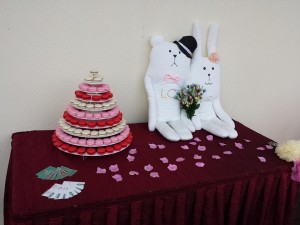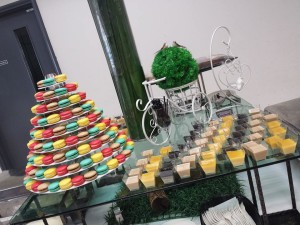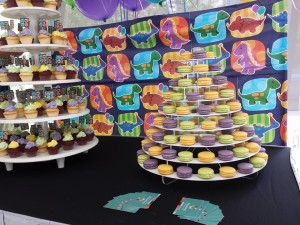 Price = SGD$269.90
10 Tier Macaron Tower
Price = SGD$388.80
Type: Straight Standing, 220 pieces (Most Popular!)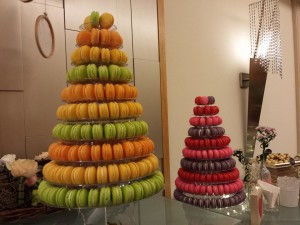 The most elaborate option in our arsenal, this 10 tier tower is the ultimate expression of class and elegance for any event.
Not only do we have customers who chose to have this particular macaron tower to substitute their wedding cake on their big day, many also chose to make this a center piece for their dessert table.
Play around by having different colours for each tier, and watch them grab the attention of your guests. See how this tower will make a difference to your event, big or small.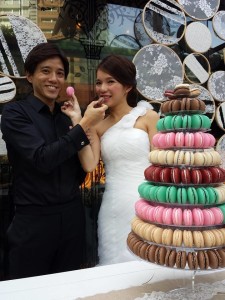 Price = SGD$388.80
Macaron Tower FAQs
1) The number of macarons I need don't match what I need. Can I customize the quantites?
Yes you certainly can.
However, do take note that you're only able to alter the quantities for the flat laying macaron towers, and not the straight standing macaron towers.
Also, package prices won't be applicable should you wish to alter the quantities. Do drop us an email to get a quote for what you need.
2) Do you collect the macaron towers back from our event venue at the end of our event?
We do not do collection of the macaron towers after your event. You will need to keep them and return it back to us at our shop during our operational hours for the refund of your deposit.
Don't worry, dismantling the towers are really easy, and they are able to pack flat for easy storage.
3) If we don't request for your delivery and setup service, are the towers easy to setup?
Yes, definitely! In fact, we encourage all our customers to do pickup and setup on their own as it's really easy, and you get to save money.
When you pick up your order from our shop, we will give you a live demo and the instructions to setup your macaron tower.
And we assure you, it will be easy. 🙂
4) Can I request for custom macaron flavours to be made?
Here at Macarons.sg, we take pride in serving you the best macarons possible.
And because we want to make sure a macaron has been tried and tested here at our bakery before selling, we won't be able to take in orders for custom flavours that have not been tested before.
5) Can I request that you make the macarons less sweet?
Our macarons are made with the lowest level of sugar to ensure that they are stable enough for baking, yet won't turn out too sweet.
Hence, we won't be able to reduce sugar levels any further.
Having said that, our macarons will be less sweet compared to the original french macarons. So you need not worry about them being overly sweet.
6) Can I add customized printings on my macarons?
Sure! One word of advise though.
For printed macarons, we will strongly encourage that you take the flat laying macaron towers so your prints can be clearly seen.
An additional $0.50/print applies for this option.
7) I need my macaron tower on a weekend, and you're not opened. So how do I do self collection?
– For such timings, we suggest collection on a Friday evening. Our macarons keep well for up to 7 days in the fridge, so the macarons will still be fresh for a weekend setup.
Email Us To Order
Ordering your macaron tower is simple!
Send us an email with the title "Macaron Tower Order", along with:
1) Your pre-filled PDF order form: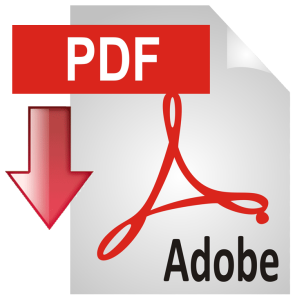 Download Macarons Tower Order Form Here
You have to be able to download Adobe Acrobat Reader in order to download and fill in the above form. So in case you don't have Adobe Acrobat Reader, download it here.
[youtube width="640″ height="360″]https://www.youtube.com/watch?v=nykesgjJ8KM[/youtube]
To better understand how to fill up the PDF order form, watch the video above to understand how to order your Macaron Tower.
Be sure to rename your order form by using the "Save As" button in Adobe Acrobat Reader, and then renaming it as Macarons_Tower_Order_Form_YOURNAME.pdf, where "YOURNAME" will be your name in full so we know it's from you.
2) Your necessary .jpg or .png image files
If you've gone through the tutorial video already, you'll understand that you need to send us your images (if any) so we can proceed with the optional part of your order.
Be sure to name them and then list them down in your order form as taught in the video.
We'll then reply you within 24 hours to inform you if your order has been successsful.
IMPORTANT NOTE: Do order at least 2 weeks in advanced as we need to make sure your required flavours are in stock, and that we will have sufficient time for your order.
HAPPY ORDERING!