Macarons.sg Variety Box Set
---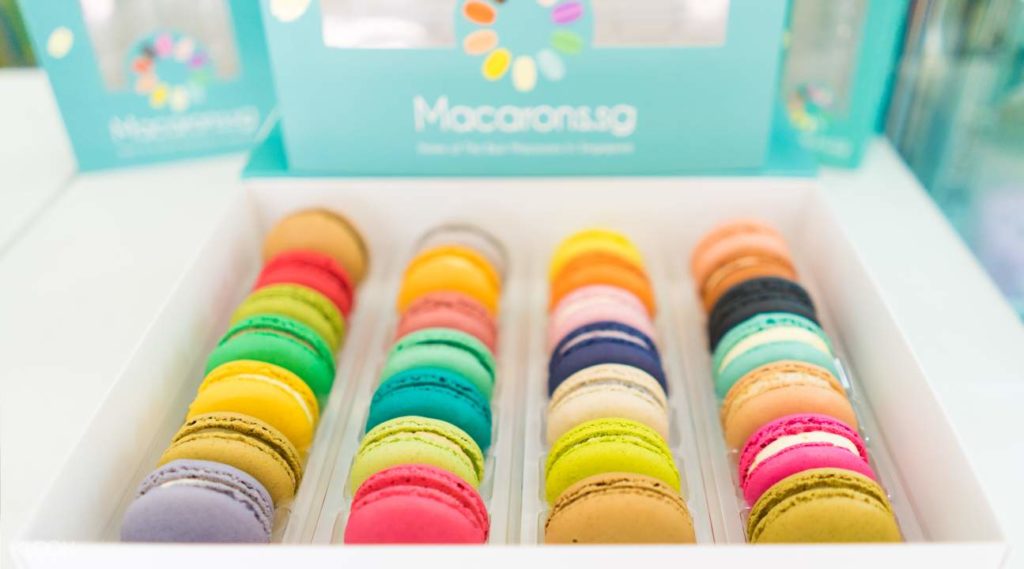 28 Different Macaron Flavours,
One Low Price!
Never before in Singapore have you seen such an array of flavours offered in a single box.
But now, you can truly taste 28 different flavours at one go, at such an affordable price!
Usual Price: $58.90
Variety Box Set Price: $42.00
Get As Many Sets As You Want!
We want to spread the joy of our macarons to everyone out there, so we are offering NO LIMITS to the number of sets you can get!
Get as many sets as you would like, and share them with your loved ones!
Use these macarons for your parties, as gifts for friends, or even just to satisfy your sweet tooth!
The sky's the limit!
How To Order
Just follow these easy steps to get your hands on these variety box sets:
Option 1: Walk-in Purchase (for 2 sets and under)
Just walk-in to our factory during our operating hours and buy on the spot. It's that easy.
Due to hygiene reasons, we can only accept contactless payments for now, which is PayNow and Grabpay.
Note: We currently do not accept credit card payment. We're working hard to get a terminal so there are more options to pay. We will update on this option.
Option 2: Online Pre-order for walk-in collection
Click here to order online, then follow the checkout steps when you have finalized your purchase.
Choose the self collection option, and choose your desired date and time for collection.
Option 3: Delivery (earliest next day deliveries. Weekdays and Saturdays only, not including public holidays)
Order from the same online store as option 2, but opt for the delivery option.
It's free for purchases above $100.00, or at a really affordable rate at just $10.00/trip islandwide for purchases below $100.00.
Do note that for Sentosa addresses, there will be a $5.00 surcharge.
Terms and conditions for delivery will apply.
IMPORTANT:
1) Do take some time out to read our Terms and Conditions, and Offer FAQs before making your order.
Once you submit your order form, you are considered to have agreed to our Terms and Conditions, as well as understood the details for this offer.
2) Should you have any other questions pertaining to this offer not covered in the "Offer FAQs" tab, feel free to contact us for more information.
We look forward to serving you.
1) No choosing of flavours is allowed for this offer. Each box of 28pcs will contain all of the 28 flavours from Macarons.sg.
You can view the flavours by clicking here.
2) Converting the variety box set offer into macaron doorgift sets and macaron tower packages strictly not allowed. This offer is only valid in 28pcs box sets.
3) Macarons.sg reserves the rights to amend the above T&Cs without any prior notice.
1) Am I allowed to choose my flavours for this set?
The purpose of this offer is to allow customers to try all our flavours at a discounted price. As such, no choosing of flavours will be allowed.
2) How do I get to your factory?
It's easy. We have included instructions on how to come to our shop.
You can learn more about our location and operating hours by clicking on this link.
3) I understand that you have smaller box sizes in 7pcs and 14pcs. Can I split my orders into smaller box sizes?
As this is a discounted offer, we won't be able to allow splitting of the order into smaller units.
4) I need the macarons as soon as possible, but I have missed the cut-off time for delivery. Are you able to make an exception for me?
We understand that customers may from time to time require macarons at a moments notice.
Should you need them urgently, you can contact us to check.
We cannot promise that we will be able to fulfill your order, but if we can, we will let you know when you call us.
5) How long can your macarons last should I wish to not consume them rightaway?
Our macarons keep well in the fridge for up to 7 days (day 1 being the day you purchase the macarons).
Be sure that you keep them in the boxes that they come in to ensure their freshness.
Should you have a question that is not answered here, feel free to contact us for more information.