Australian Passion Fruit
---
Error: external images are not supported.
To Enjoy The Taste of Summer…
… You just can't go wrong with our Australian Passion Fruit macarons.
Grown in many parts of the world, the passion fruit is most widely used in desserts and salads, and now, in a macaron only from Macarons.sg.
But why do we only use passion fruits from Australia and not from other parts of the world?
Why The Australian Passionfruit…
The answer lies in how widely the passion fruit is used by the Australian in their desserts and foods.
Our research has shown that the Australians are the best at using this tropical fruit in their staple food. So we figured that they must also be the best at growing and harvesting the best passion fruit that we need.
And did we say? We tried them, and they didn't disappoint.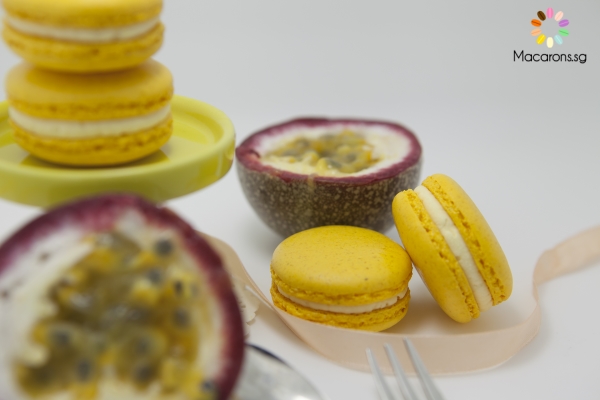 How We Make Them…
The passionfruit is a tricky fruit to work with, because they have lots of seeds and very little puree in each fruit.
The edible part of each fruit has to be painstakenly rubbed against the bottom of a stainless steel sift until the fruit pulp is separated from the seeds.
This will continue until we get all the puree we needed.
The puree is then infused into our Italian meringue butter cream before the entire mixture gets sandwiched between a pair of macaron shells.
The result? A light macaron with the rich taste of summer that only the Australian passion fruit can give.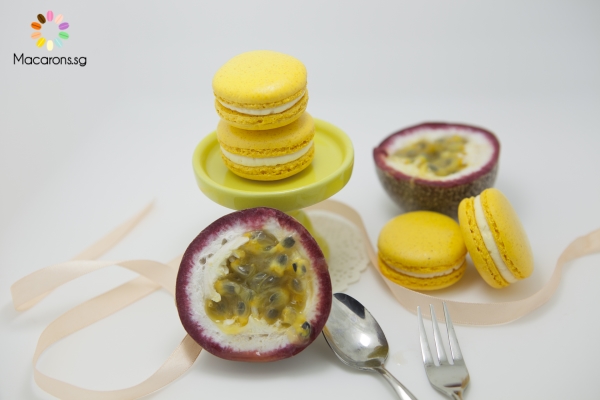 Australian Passion fruit Macarons Are Popular With…
From our feedback, this is a flavour that sits well with adults and the seniors. The rich aroma and sourness of the passionfruit offsets the macaron's sweetness.
Coupled with the light italian meringue buttercream, it certainly makes the Australian passion fruit macaron light on your palate, and a flavour to die for in any adults party.