Double Chocolate
---
Error: external images are not supported.
Anything Is Good… If It's Made Of Chocolate…
And here at Macarons.sg, we couldn't agree more.
Chocolate is indeed the most well loved dessert in the world, and you can find them in many forms. From ice creams to sorbets, and from cakes to cookies.
And now, you can have it in a great tasting macaron, only from Macarons.sg.
So Why Is It Called Double Chocolate?
Why not just chocolate right? Well, that's because the macaron shells are not just made using ground almond, powdered sugar and egg whites, but premium quality cocoa powder as well.
Sandwich them between our signature chocolate ganache filling, and you'll get double the chocolate goodness…
Hence, Double Chocolate macarons.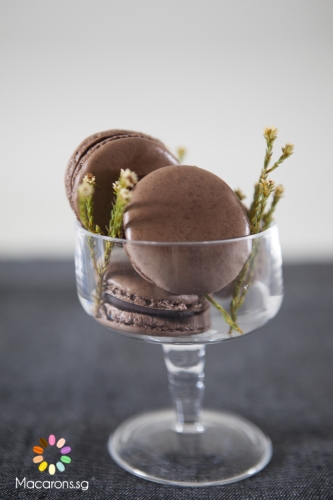 How They Are Made At Macarons.sg?
We know how using low grade chocolates and cocoa powders can result in awful tasting chocolate desserts, so here at Macarons.sg, we insist on using only good grade raw cocoa ingredients to give you the best chocolate macarons you will ever eat.
Plus, we only use premium grade dairy cream and butter to make chocolate ganache so smooth, it gives an unbelievable sensation in every bite.
We mean, try them for yourself and tell us if we're wrong. 🙂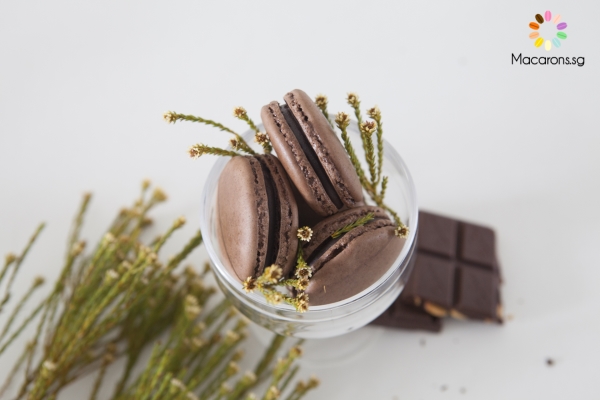 Double Chocolate Macarons Are Popular With…
Believe us, you don't want to leave Double Chocolate out when you're planning a party. These are so popular with adults and kids alike, just like our Cookies & Cream macarons, they usually are among the first flavours to run out.
So be it a kids', adults', or even an elderlys' party, be sure to include Double Chocolate as part of the menu.
And did we mention? They make great gifts too! If you don't know what macaron flavour the other party will like, try Double Chocolate. You just can't go wrong!