Red Velvet Cream Cheese
---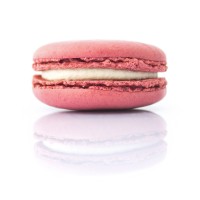 Once Only A Best Selling Cup Cake Flavour…
And now becoming a best selling macaron flavour, only from Macarons.sg.
We've always been intrigued by how the red velvet cream cheese flavour is such a hot flavour for cupcakes, whole butter cakes, and even as a drink flavour in some cafes in Singapore!
So we thought, why not have this flavour in a macaron? It might just become a hot favourite!
And guess what? We released this flavour to our regular customers, and they were sold right away.
So Why Red Velvert Cream Cheese?
If there was a reason why the red velvet was such an incredibly popular flavour, we could only think of that fact that it could have been the amount of cocoa powder used to achieve its flavour, which is a well loved ingredient in pastry making.
And coupled with a light cream cheese filling, it gives the red velvet its own distinctive combination.
So addictive, yet so light to the taste palate.
How We Make Them…
When it comes to cream cheese, we absolutely love the American cream cheese, the nation that brought us the Philadelphia cheese, a household favourite.
Coupled with our italian meringue buttercream in a secret proportion that's been tried and tested here at Macarons.sg, we've come up with a cream cheese filling that's not only light and addictive, but also light to your palate.
That helps you not get tired of eating them so quickly.
Red Velvet Cream Cheese Macarons Are Popular With…
So far, from our findings, almost everyone!
Because if you're not a cheese lover, the combination of our light cream cheese fillings with the red velvet shells might just change your mind. And if you're a cheese lover, this macaron flavour is just too good to pass up!
So there you have it, another all rounded favourite macaron flavour from Macarons.sg.
Order it for parties of all ages. They will be no doubt be a hit!