Giant Macaron Cakes
---
Impress your friends with these one of a kind giant macaron cakes in Singapore. Believe us, you'll not find something this unique anywhere else in Singapore.
Look through the list below to see the options that we offer. You might just be shocked at the reasonable prices we charge for these beauties.
IMPORTANT NOTE: Do order at least 7 days in advanced as we need to make sure your required flavours are in stock, and that we will have sufficient time for your order.
Click on the tabs below to check out our available options…
1. Basic Giant Macaron Cake
Price = SGD$45.00
A 5 inch diameter giant macaron, these unique giant macaron cakes can be used as a mini birthday cake.
Perfect for small celebrations with a few close friends.
1) Strawberry Chocolate Flavour (All Time Best Seller)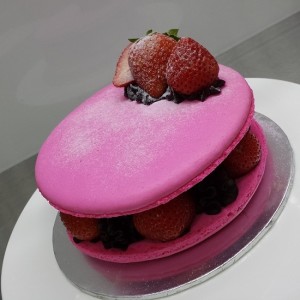 Our Strawberry Chocolate giant macaron cake is our Number 1 best seller right here at Macarons.sg.
Sandwiched between 2 strawberry red coloured 5 inch macaron shells are fresh strawberries and our signature chocolate ganache filling, the same kind we use for our best selling double chocolate macarons.
This cake is really rich in taste, and can be shared between 6 to 8 people, despite its petite size.
2) Mango Peach Flavour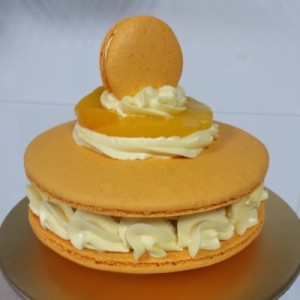 Contrary to the Strawberry chocolate giant macaron, our Mango Peach flavour is light on your palate, and is very popular among adults and seniors.
Know someone who prefers something fruity and light and not too rich in taste? The Mango Peach Giant Macaron Cake is perfect. 🙂
3) Mao Shan Wang Durian Flavour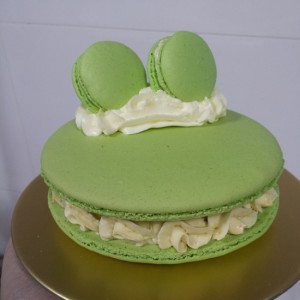 If you know a durian lover, then this is it!
Done with the same durian goodness as our Mao Shan Wang durian macaron, this is a durian fan's dream come true!
Pungent, rich, and really yummy!
Price = SGD$45.00
2. Giant Macaron With Alphabet Macarons
Price = SGD$64.90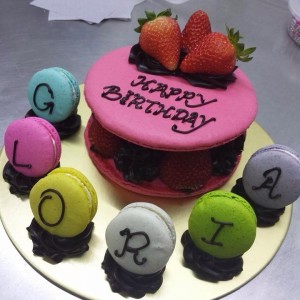 Pair up to 7 pieces of our macarons with a basic macaron cake, and display each macaron with an alphabet in front of the basic macaron cake to display a name or message.
A message can also be written on top of the basic cake.
It's the best way to personalize something for someone special.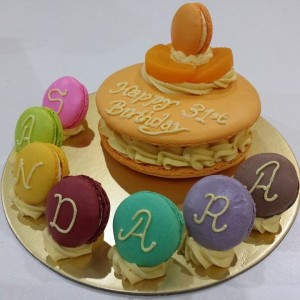 Price = SGD$64.90
3. Giant Macaron With Assorted Macarons Ring
Price = SGD$89.90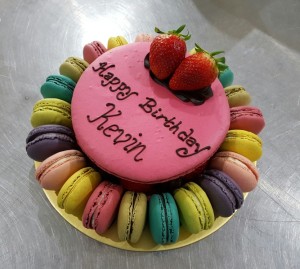 Our most popular option to date, this giant macaron cake option caters to a moderate size party because it comes with an extra 21pcs of macarons that will be enough to feed everyone!
Choose a macaron cake flavour along with the flavours for the 21pcs of macarons you would like, or leave it to us to choose for you an array of assorted flavours to give you a great colour combination that will add colour to the party.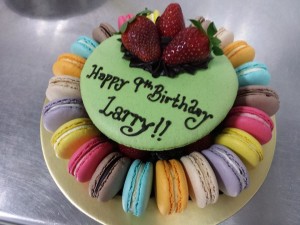 Price = SGD$89.90
4. The Best of Both Worlds (Most Popular!)
Price = SGD$119.90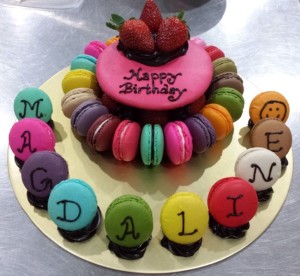 Turn heads and impress the most important people in your life with this unique macarons arrangement anyone will ever see in any celebration…
Choose a basic macaron cake above, then add a ring of 21pcs of macarons followed by additional alphabet macarons in the front, up to 10 pcs.
Perfect if you want to really make an impact on a macaron lover or any celebration.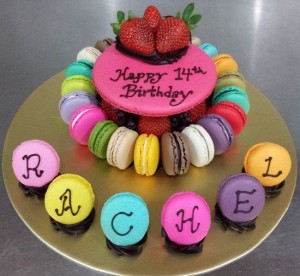 Price = SGD$119.90
Giant Macaron Cake FAQs
1) I would like a bigger giant macaron. Can you help me?
Unfortunately, due to the complexity of macaron making, 5 inches diameter is the biggest we can go. Hence, we can't take in any custom orders for anything bigger.
2) Can we have more than 7pcs of alphabet macarons for option (2), and more than 10pcs for the option (4)?
It will be a tight squeeze for anything more than the number of pieces stated for each option. Hence, we won't be able to do more pieces than what each option allows.
3) Can we request for more fruits and less cream in our giant macarons?
Our fruits and cream proportions are fixed. Hence, we won't be able to change them.
If your concern is that the cream will make the macarons too sweet, fret not.
Our macarons are specially made to be less sweet to suit the local tastebuds. So you need not worry about them being overly sweet.
4) Can I request that you make the macaron shells less sweet?
Our macarons are made with the lowest level of sugar to ensure that they are stable enough for baking, yet won't turn out too sweet. Hence, we won't be able to reduce sugar levels any further.
Having said that, our macarons will be less sweet compared to the original french macarons. So you need not worry about them being overly sweet.
5) Can I request for a custom flavoured giant macaron to be made?
Here at Macarons.sg, we take pride in serving you the best macarons possible. And because we want to make sure a macaron has been tried and tested here at our bakery before selling, we won't be able to take in orders for custom flavours that have not been tested before.
6) Can I request for printed macarons in place of the alphabet macarons?
Currently, we are not able to offer printed macarons to go with any of our giant macaron cakes.
Email Us To Order
Ordering your giant macaron cake is simple!
Send us an email with the title "Giant Macaron Cake Order", along with your preorder form, to download and fill below: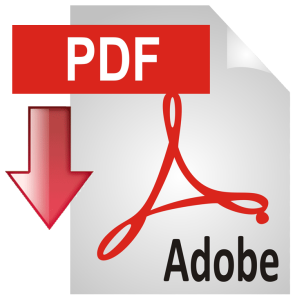 Download Giant Macaron Order Form Here
You have to be able to download Adobe Acrobat Reader in order to download and fill in the above form. So in case you don't have Adobe Acrobat Reader, download it here.
[youtube width="640″ height="360″]https://www.youtube.com/watch?v=y5wDdW__sIc[/youtube]
To better understand how to fill up the PDF order form, watch the video above to understand how to order your Giant Macaron Cake.
Be sure to rename your order form by using the "Save As" button in Adobe Acrobat Reader, and then renaming it as Giant_Macaron_Cake_Order_Form_YOURNAME.pdf, where "YOURNAME" will be your name in full so we know it's from you.
We'll then reply you within 24 hours to inform you if your order has been successsful.
IMPORTANT NOTE: Do order at least 7 days in advanced as we need to make sure your required flavours are in stock, and that we will have sufficient time for your order.
HAPPY ORDERING!