Blue Velvet Oreo Cheese – OUT
---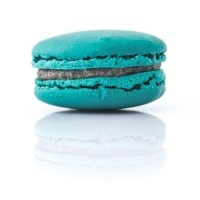 Just When You Think Only Red Velvets Exist…
Guess what? Velvets actually come in many colours, not just red. In fact, the only limit is your own imagination.
And here at Macarons.sg, we decided to break the norm and invent our own velvet flavours.
And the end result for this flavour? The Blue Velvet macaron.
Velvets taste great when paired with cheese fillings, which leads us to the next question…
So Why Oreo Cheese Filling?
Well, why not? Here at Macarons.sg, we love to make macarons that everyone loves.
So we figured, why not start with a cheese flavour everyone loves?
And that's how we decided to use Oreo Cheese, since you can find them in cupcakes, chilled cheesecakes, baked cheesecakes, and more.
And now… in a macaron from Macarons.sg.
How We Make Them…
In case you didn't know, customers rave about our Red Velvet Cream Cheese macarons for many reasons, mostly for the cheese filling that is light and goes well with the local palate.
So without reinventing the wheel, we take our raved cream cheese filling and mixed it with crushed Oreo cookies in an appropriate ratio.
The result? Great tasting Oreo cream cheese filling. 🙂
Blue Velvet Oreo Cheese Macarons are Popular With…
From our demographics, children and teens who are facinated with cheese cakes, Oreos, and chocolates are blown away by this flavour.
But no matter your age, if you're a cheese cake lover, Oreo or chocolate fan, you'll love this!