Singapore Macarons – My Macaron Journey Begins
---

Above: French Meringue Singapore macarons made during my first ever macarons class. Picture was taken 2 years ago.
When I first started making Singapore macarons, I learnt from the same master chef that taught me all I knew about cake and tarts making.
And back then, I didn't know that a variety of methods for making macarons existed. All I knew was she had a method of making them, and all I needed was to follow what she taught to a tee.
BOY! Was I wrong!
While there was nothing wrong with the method she taught, and many people are using this method of macaron making, this method, otherwise known as the "French Meringue" method, isn't as stable in sunny and humid Singapore.
So if you want to make Singapore macarons, I suggest you steer clear away from this method.
And if you know a thing or two about macarons making, you'll know how humidity can really kill your macarons while you're making them.
But not knowing how humidity was able to kill my macarons, I practised with this recipe for over a year, and only succeeded a couple of times.
Imagine the frustration I had to go through because I couldn't figure out what the problem was about making Singapore macarons.
In any case, I stuck with this for about a year before I decided I had to learn recipes that would suit sunny Singapore. And because my failed attempts looked really bad, I couldn't bear to take pictures of them. All I had were memories of how ugly my Singapore macarons looked.
And little did I know about the stability the next method would bring, and how it would forever change the story of my Singapore macarons making…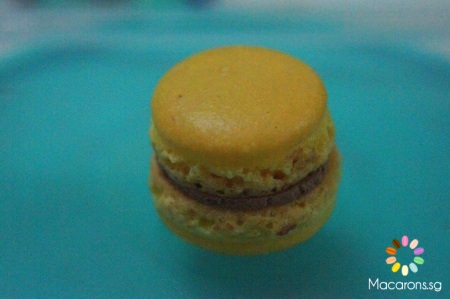 Above: A single french meringue macaron done during class, with chocolate freshcream filling.